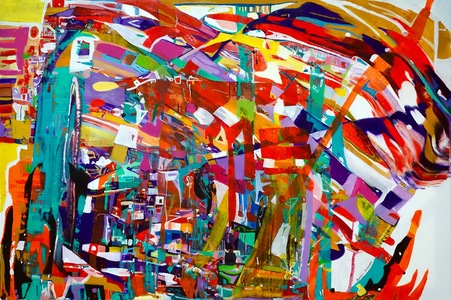 Kinetic/Chaos,
2017, acrylic on canvas, 30 x 40 inches ©KarenLKirshner
The American Dream
by Karen L Kirshner, ©1989
We pay for the choices we made in youth,
actions stemming from a presumption of immortality,
which, once played become crimes that haunt us
when future merges with present.
Strategic windows open to newly gained control
are skillfully shut by the aggressive current of age
as it slips its claws around youthful fantasies.
Age likened to the many branches of a deceptive rose bush
Winding themselves around a long stake
Seeming to look for guidance,
Upon closer inspection…
the thorns tear through the loving caretaker, as readily
as through a hostile interloper.
Age has not befriended me,
Like a blind and hostile rose bush, I may have planted,
Pausing to admire its superficial beauty,
It turned on me and swiped this grown child's last hopes,
Tearing them from the tapestry of optimism,
Like threads from the clothing of an intruder.
While I sit pondering my sad and singular existence,
Debt and hard labor through books takes a shadowy form,
An enigmatic monster bigger than a bad dream, taps me on the shoulder, asking me to turn towards the spectacle.
In horror, I turn to distant symbols I thought were within reach
Move further away, beyond my grasp,
Gradually facing, and sinking, tens of thousands of dollars,
A Mercedes-Benz country house, life partner, and 2.5 children,
All of it previously etched on a promised stake
Labeled "The American Dream" is lodged somewhere at the bottom
Of a mythical abyss, linking this world to another,
A Bermuda Triangle of childhood treasures lost
in the adventure of growing up.
I paid dearly to follow the dream.
Now I trespass on the edge of the abyss,
Tearfully grasping the nearest means of support,
The branches of a rose bush,
All thorns tearing into my palms
Wounded and bleeding, relentlessly
I search for the missing symbols.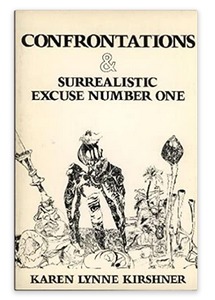 CONFRONTATIONS & SURREALISTIC EXCUSE NUMBER ONE
by Karen Lynne Kirshner, ©1981
Self-published, limited edition
Quoted from the book:
MOTHER IS AN ARTIST
SHE PAINTS NUDE WOMEN
AND PUTS CLOTHES ON THEM
IN OIL PAINTS,
CRIMSON, VIOLET AND OCHRE
WHEN SHE IS THROUGH,
IT IS ASTONISHING
TO WITNESS THE TRANSFORMATION
OF A BARE PINK BODY
INTO A PAISLEY HOUSE-DRESS
THAT IS TOO LOOSE
TO HOLD ART-FORM WELL
MY MOM CONFINES HERSELF
TO HER MAKESHIFT STUDIO
DOWNSTAIRS,
THE DEN
PANNELED WITH WARPING RAW UMBER WOOD.
THE IMAGINATION
EXAGGERATES RELUCTANT CURVES
ON THE WALL
OF THE MODEL'S BODY
ON THE CANVAS
WHERE MOM IS AN
EXPRESSIONIST
PAINTING VOLUPTUOUS WOMEN
IN TENT-DRESSES.
(2/20/78)
©KarenLKirshner